About Jewelry
   Authentic Western & Native American Jewelry
We are proud to bring you an exclusive selection of authentic hand made Native American Indian jewelry and artwork. We display hand crafted sterling silver necklaces, earrings, cuff bracelets, rings and pendants made from some high quality turquoise and other natural materials.
We have unique Western gifts carefully handcrafted by local artists.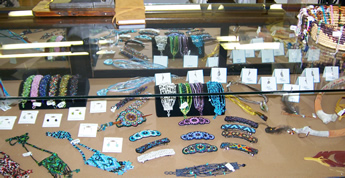 | | |
| --- | --- |
| | Hand-made Native American Silver & Turquoise |
| | Hand-made Beaded Bracelets and Necklaces |
| | Authentic Western & South Dakota Gifts |
| | Official Sturgis Rally Gifts |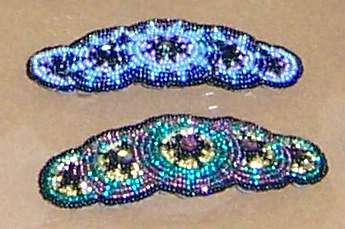 | | |
| --- | --- |
| | Beaded Bracelets and Necklaces |
| | Beaded Bags & Pouches |
| | Silver Earrings & Pendants |
| | Many More Hand Made Gifts |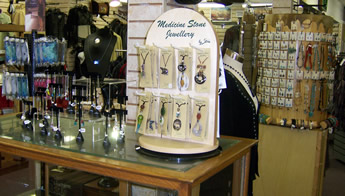 | | |
| --- | --- |
| | Gemstone & Glass Earrings & Pendants |
| | Polished Stone Jewelry |
| | Native American Hand-made Creations |
Tufa Cast
Tufa casting is one of the oldest jewelry techniques used by the Navajos in jewelry making, developed in the late 1800's. The art and technique remain the same, except for the melting of the silver. In the 1800's as torches and gasoline were unavailable, for a silversmith to melt silver, he would have to build a fire and let in burn overnight. The charcoals embers were then collected in a tin bucket, to condense the area of heat. Silver coins were then placed in a pottery shard that was fashioned into a crucible. The crucible was then placed in the tin bucket to melt it. The silversmith then would bellow the flames for about an hour, and then the silver would become molten.
The traditional method of tufa casting was used to make high-profile shapes that were easier to accomplish by carving a deep design in tufa stone that would hold the molten silver until it cooled and assumed the form of the mold. For more than 70 years American Indian silversmiths had been using tufa casting without much alteration of the technique until the 1950s when Charles Loloma began to experiment with the surface texture. By allowing some areas of the rough-surfaced silver to go unfinished he created a contrast in textures that offered a new look for contemporary Native American jewelry.
Tufa stone is a soft, fined-grained stone which is formed by compacted volcanic ash and can be scratch with a piece of metal. Although the stone is never heated, it works great at high temperatures. Tufa casting is a delicate art with molds lasting with one or two castings before they are no longer usable. The texture of the tufa stone leaves its distinctive texture on the finished piece, resulting in a sandstone-like texture. As the piece is finished it is then shaped, polished and stones are set. Tufa cast is a difficult technique that produces one-of-a kind pieces that cannot be replicated.
Each piece is custom, and the original mold comes with the jewelry piece purchased.